funerals
#obituaries
Paul McFarlane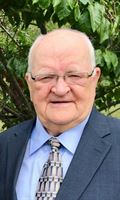 Paul McFarlane
Passing Date:Thu, Apr 29 2021
Viewing:No Visitation
Funeral Location:St. Patrick's Roman Catholic Church
Resting Location:No Visitation
Wishes:Miramichi Regional Hospital Foundation
It is with great sadness that we inform you that our Dad, Paul Patrick McFarlane, passed away peacefully at the Miramichi Regional Hospital at the age of 79.
Dad was an extremely devoted husband to our Mom, Brenda for 57 years. He was a supportive father to Paula Foley (Gary), Glenn McFarlane (Wanda), Roe McFarlane (Chantal), and Stephanie Flanagan (Jason), and an extremely proud Grandpa/Pop to Stephanie, Patrick, Ryan, Jack, and Margot.
Dad will be sadly missed by all of us, including his brothers; Bob (Linda), Mattie (Patsy) and Blair (Patricia), and his four sisters; Carol Ann Howe (Donald), Marilyn Mazerall (Jim), Maureen Dufort (Rick) and Donna Wait (John), as well as his sisters-in-law; Edna Dunn and Faye Walls. He will also be missed by his special canine companion, Greta. Dad was predeceased by his parents; Willard and Mary (Walsh) McFarlane, and brothers Richard "Ricky" and Darrell; as well as his father- and mother-in-law, Emmett and Pauline (Raiche) Hogan, and brothers-in-law Eldon and Timothy Hogan, Aloysius "Allie" Dunn, and Russell Walls.
Dad's lifelong family journey began with his dedicated service in Canada's military, where he met his soulmate, Brenda. Upon completing his service, he started his career, becoming a gifted electrician, having worked the majority of his life at the 'Mill' before retiring in 2001.
Dad was always up for a good chat, often adding his colourful wit and hilarious sense of humour to the conversation. It was not uncommon for his one-liners to catch you off guard and cause you to have to regroup from fits of laughter! He enjoyed time in the woods at the camp with his buddies and had a love for cooking; the greater the 'crowd' that was to be fed, the happier he was. Many enjoyed his Corn Beef and Cabbage, turkey dinners and ham & potato scallop, to name a few. He truly was Coady Street's maintenance man and a Jack-of-all-Trades. You could always find Dad tinkering around the house or tending to his gardens that often produced enough veggies to help feed family and friends alike. More recently in life, Dad loved to work his tractor and raise honey bees, producing some delicious honey that was enjoyed by many. He was as selfless as they come; his heart much bigger than the body in which it was housed! He was always the first to help someone in need, no matter the circumstance.
Dad, we will miss you, we love you, and we will forever hold fond memories of you in our heart.
"It is amazing how one person's act of kindness can change the course of your life."
– Author unknown
In Dad's honour, he would love nothing more than if you remembered him by paying it forward with your own act of kindness.
Due to Covid-19, there will be no visitation, Mass of Christian Burial will be celebrated from St. Patrick's Roman Catholic Church at a later date.
In Paul's memory, donations may be made to the Miramichi Regional Hospital Foundation. Messages of condolences can be sent through our website: www.bellsmeadows.com
Funeral arrangements are under the care of Bell's Funeral Home, 651 King George Highway, Miramichi, NB. Telephone: 506-622-3600.